Saturday Story Times at Barnes & Noble
In addition to their normal Friday story times for preschoolers, Barnes & Noble will be hosting Saturday events for older kids.  Here are the dates and stories they will be reading during June.
June 13th; 11:00am
What happens while you're sleeping? Find out in this interactive bedtime story, Touch the Brightest Star. No two readings of this book will be the same, and the gentle, soothing rhythm makes this a bedtime favorite! Join us for Storytime and activities.

June 20th; 11:00am
Join us for a special Storytime celebration for Father's Day featuring How to Surprise a Dadand How to Babysit a Grandpa.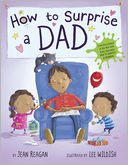 June 27th; 11:00am
Orion is scared of a lot of things, but most of all he's scared of the dark. So one night the Dark decides to take Orion on an adventure. The Dark leads Orion on a night of friendly mischief (bed bouncing!) and a trip into the very heavens where Dark reign.

Where: Barnes & Noble at the The Shoppes at River Crossing
Where:  Saturdays in June; 11:00am
Who: ages 2 – 5
Cost: Free
Event Contact: 478-474-0161
Event Website: Barnes & Noble